Can you believe that Thanksgiving is growing near? November is also National Native American Heritage Month. This is third year that I have made this November/Thanksgiving request on my blog. It is the only time of the year that I solicit monetary donations from my friends. It is for a cause that I truly support and I am so very thankful to those of you who contributed in 2009 and 2010.
As many of you know, I have the distinct honor and priviledge of beading bracelets from the logo of Eve's Fund. Eve's Fund is a Native American Health Initiative that promotes programs to help Native Americans.
It was established in 2005 by Dr. Robert M. Crowell, a retired neurosurgeon and Eve's mother, Barbara Crowell Roy . This fund is named in memory of their daughter, Eve Erin Crowell, who died tragically in February of that year. Eve's Fund is a non-profit 501 (c)(3) organization incorporated in New Mexico.
While I support this organization year round, I actively solicit donations for their children's literacy program during November. It is a part of my personal celebration of National Native American Heritage Month and a way of expressing my thankfulness for the blessings of literacy. Literacy is taken for granted by most of us.
Three years ago, Eve's Fund's website posted an article that got my full and undivided attention. It reminded me of all that I have to be thankful for. I was shocked by the fact that there are so many Native children
who do not own a single book of their own!
Can you imagine your growing up without owning a single book? Can you imagine your Grandchildren not owning a single book? But it is true that many Native children don't have the luxury of book ownership. I find this fact to be very sad and I am so thankful that Eve's Fund is playing an active role in promoting literacy by providing children with books of their very own.
Last year, Eve's Fund partnered with Betty Metz. Betty Metz is a remarkable person and the founder of Books-a-Go Go. Betty's organization is a not-for-profit group that gives away books to needy kids. Fortunately, for Eve's Fund, Betty has pledged to donate books to Navajo children. In May of 2009, the first shipment of 2,000 books arrived at Red Mesa Arizona. Last year Books-a-Go Go donated another 3,200 books (2,600 pounds worth) to Navajo schools in New Mexico and Arizona. As Betty says, "it's all for the kids," and she has certainly touched a great many of them. Betty's mission is to give books to children from low-income families and thus pave the way to education and more fulfilling lives.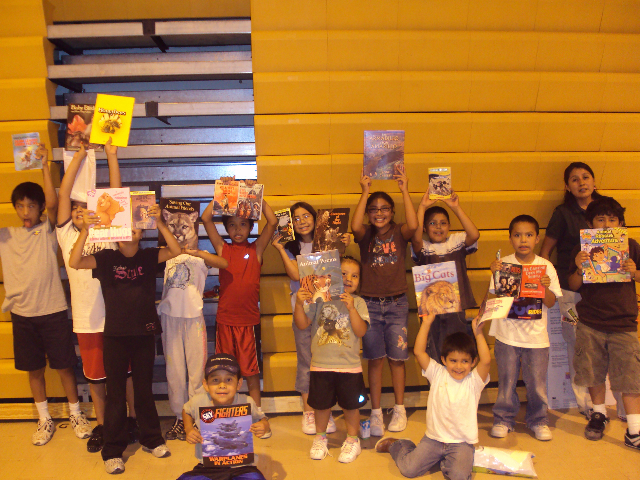 For a mere $5.00 donation, Eve's Fund will ship a book to each of five Native children.
I remember the pleasures of reading books to my three grandchildren and in purchasing books for them. Each year I designate a donation to this literary program and have books shipped to Native children in the names of my three grandchildren, Sydney, Mason and Olivia. Will you join me in doing the same this year?
We take so much for granted! We forget how blessed we are that someone taught us to read! We had our very own books! And even in these troubled economic times, we can a difference with even a modest donation.
If you would like to make a similar Thanksgiving gift in the names of your children or grandchildren, it is very simple. Go to this site.
http://evecrowellsfund.org/how-you-can-help/
There are several options as to how you can help. Click on "Donate".
You can designate the way you want your donation to be applied. In the purpose, I wrote "Ship books in the names of Sydney, Mason, and Olivia Stinson."
You can pay with Paypal.
Or if you prefer, you can send a check to:
Eve's Fund/ThinkFirst Navajo
c/o Robert M. Crowell, MD, President
180 Elm Street, Suite 1, PMB 168
Pittsfield, MA 01201
What a simple way to give "Thanks" for all the pleasure books have given you over the years and to provide that experience for another child. Please join me in giving at least five Native American children the pleasure of book ownership this Thanksgiving.